This page will consist of my all time favorite links. Have a look around and see if anything catches your eye. When I can I will put a short discription of the site so you know whether or not you would be interested in visiting there. I will also display any graphic or banner for the site, which to me makes it a lot more pleasing to the eye. So, if you have a GREAT site and you would like me to list it here just let me know by SIGNING MY GUESTBOOK or by sending me an e-mail. If this page gets too big and graphic intensive I plan to split it up into catagories....eg: FANTASY LINKS...RPG LINKS...PERSONAL LINKS...etc.
Oh..and PLEASE respect all COPYRIGHTS (c) that you come across...THANKS.



FANTASY LINKS
A great Site for Gargoyle and Dragon fans.

CLICK HERE
A good friends site which offers LOTS of DRAGONS and a
"QWEST" to undertake..if you finish she will give you a "REWARD"!!
CLICK HERE
All sorts of FANTASY related stuff here.
CLICK HERE
Looking for DRAGONS??...Try this site.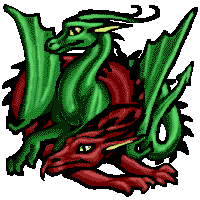 CLICK HERE
DEE DRESLOUGH..This is a VERY talented "FANTASY ARTIST"
You can get a sneek peek of some of her work from my site at
"DEE'S DEN"

CLICK HERE
Visit this ARTISTS site. I am using one of his Background sets right here.
I will have a link to his DESIGN SITE at the bottom of the page.

CLICK HERE
There is about 30 megs of FREE clipart HERE!!!
BACK TO THE BYTE